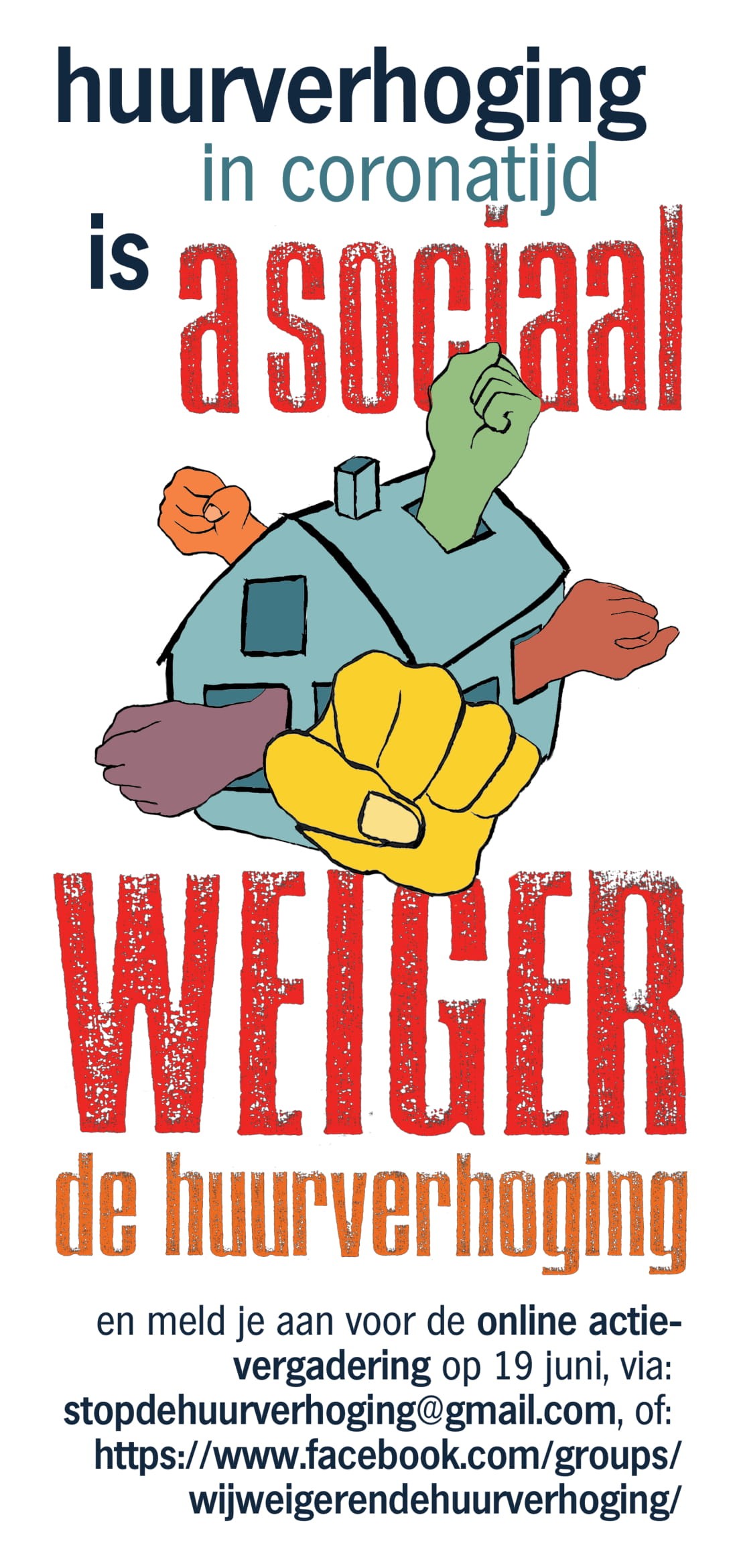 The coronavirus has turned our society upside down and affected the economy. For many people the financial consequences were immediately felt, for even more people the blow is yet to come. Self-employed workers and companies see their work evaporate, employees are in danger of losing their jobs in large numbers.
The government has introduced support measures. People in care and education have worked their way around. Thousands of people have volunteered. There were examples of solidarity everywhere.
Rent increase unacceptable
But not by the housing associations and the Minister of Housing Kajsa Ollongren! In mid-April, the announcement of the annual rent increase was on the mat, as if nothing had happened. Minister Ollongren also refuses to carry out 2 passed motions from the first chamber calling for a rent freeze. The action group 'Refuse the rent increase', a group of tenants of the Key, find this outrageous and unacceptable. Housing associations are social institutions that must first and foremost respect the interests of their tenants. Tenants are among the people most affected by the crisis.
Action!
So time for action! The action group 'Refuse the rent increase' calls on the housing associations not to implement the rent increase. For the time being, they will refuse to pay the rent increase. With this flyer they are calling on tenants to join this initiative. The more people who join this, the greater the chance of success.
Refuse the rent increase
Refuse to accept the rent increase through your direct debit as of July 1st to stop, and from then on simply transfer the old rent monthly.
For more information, join the online action meeting of Friday, June 19 from 7:30 PM. There you will receive an explanation, you can ask questions and help devise plans for further actions.
BPW Solidarity
BPW supports this action group with tips and solidarity. Read here a step-by-step plan on how you can also participate in the promotion; "We refuse the rent increase". Also contact us if you want to do this promotion with another landlord that raises the rents in your city or village.
To sign up for this, you must send an email to: stopdehuurhuur@gmail.com. Even if you do not want to or cannot participate in the action meeting, but do want precise instructions about refusing the rent increase. You will then receive a clear step-by-step plan on how to refuse the rent increase without running any risk.
Finally, you can also follow the progress of the promotion on the facebook page: www.facebook.com/groups/wijweigerendehuurbelasting/